As part of a new initiative to help readers and potential contributors become more familiar with the journal and our editorial team, Fiction International is launching a new Featured Friday segment on our social media platforms. During this time, we'll be giving readers a closer look at our editorial team for the upcoming submission period which opens on October 1st.
As our first featured post we are introducing our editor-in-chief Harold Jaffe. As editor-in-chief, he  has a final say in which pieces move forward to publication after they've been voted on by our team of readers. Since joining, Jaffe has been committed to promoting innovative and evocative works of hybrid writing and prose paired with memorable art.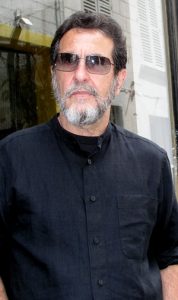 Harold Jaffe is the author of 28 volumes of fiction, docufiction, and non-fiction, including Culture Porn, Goosestep; Death Café, Sacred Outcast: Dispatches from India; Revolutionary Brain; Induced Coma; Anti-Tiwtter: 150 50-Word Stories; Paris 60; Jesus Coyote; 15 Serial Killers; Beyond the Techno-Cave, Terror-dot-Gov, Straight Razor; Eros Anti-Eros; False Positive; Beasts; Mourning Crazy Horse; Madonna & Other Spectacles; and Dos Indios. 
Jaffe's writing has been translated in Turkey, France, Spain, Germany Romania, Japan, Italy, and Cuba.
If you're interested in reading interviews with Jaffe, or learning more about each individual title, feel free to visit his website or you can find him on Facebook.
We'll be back next week with more of our editorial team members. Keep an eye out for a post mid-week with more details about our upcoming issue and the theme we selected!