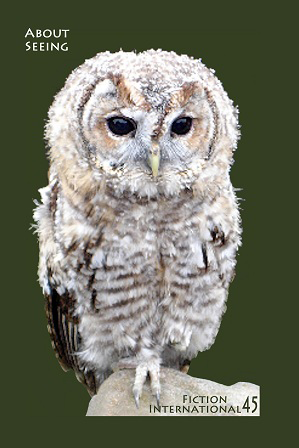 Price: $16.00
Fall 2012
ISBN: 978-0-931362-11-8
Purchase About Seeing from Amazon.com

Text and Art

Joel Lipman / 10 Eye Lessons
Jonathan Baumbach / Breathless Revisited
Norman Simon / The Headache
Charles D. Tarlton / The Turn of Art
Kenneth Bernard / Trauma #37
Gerald J. Butler / A New Way of Seeing: The Night Sky of the Enlightenment, William Herschel's Disposition Toward the Empirical, and 'Profundity'
Mark Wallace / from We Need To Talk
Shane Roeschlein / Genesis
Kenneth Bernard / #39 from Malone Dies Poems
Andy O'Clancy / Facebooked
Guy R. Beining / Pop Age
Evelyn Kelly / T.V. Demons
M. Benedict / M.M. or (Day in the Life)
Cyril Dabydeen / The Well
Tom Whalen / Vampire in Winter
David Kammerzelt / Viewing
Joseph Triscari / Death's Head
Mary Byrne / Rogues' Gallery II
Dorothy Blackcrow Mack / The Black Cradleboard
Toby Olson / The Meal
Gary Lain / Four Photo Sequence
Eckhard Gerdes / Never Made Up
Harold Jaffe / Sacrifice

part of the San Diego State University collection

Please contact the editor for reprinting information.